I'm such a dork. No, really. I am. If you haven't figured that out already. It's okay because my parents — as lovely and as lovable as they are — are dorks too. So I come by it honestly. And they love me.
Maybe everybody's a dork and only a few of us admit it and embrace it. . . . Yeah, that's the one I'm going with.
I found some more proof of my dorkitude today although, to be honest, it was Junior High and everybody's a dork in Junior High.
I found the signatures on the inside fly-leaf of my Bible.
Now, in 1980, this was the thing to do if you were a fundamentalist child (a.k.a. dork). A famous preacher/speaker came to your church (probably also a dork) and you race up afterward (very dorkily) to get his signature in your Bible.
I loved this little Bible. It was my 12th birthday present from my parents. It was red and had a snap cover. Cambridge. KJV, of course. I didn't have a Scofield (new or old), but my parents did. Frankly, my parents had every translation known to the English and French and Polish world, but that's why I love them too!
So look.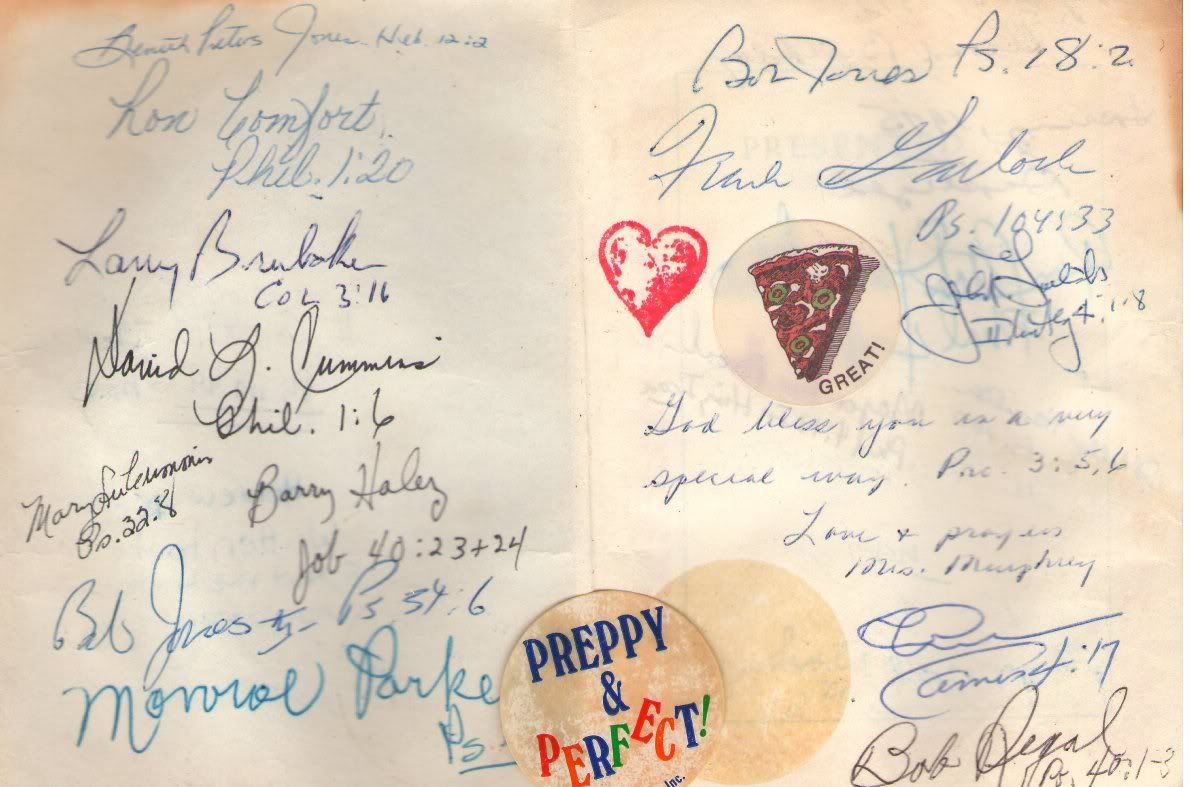 Stop laughing at my dorky stickers. Stickers were soooooooo I.T. in 1980. They had whole sticker stores in the mall. And that pizza one was scratch-n-sniff!
And the second page: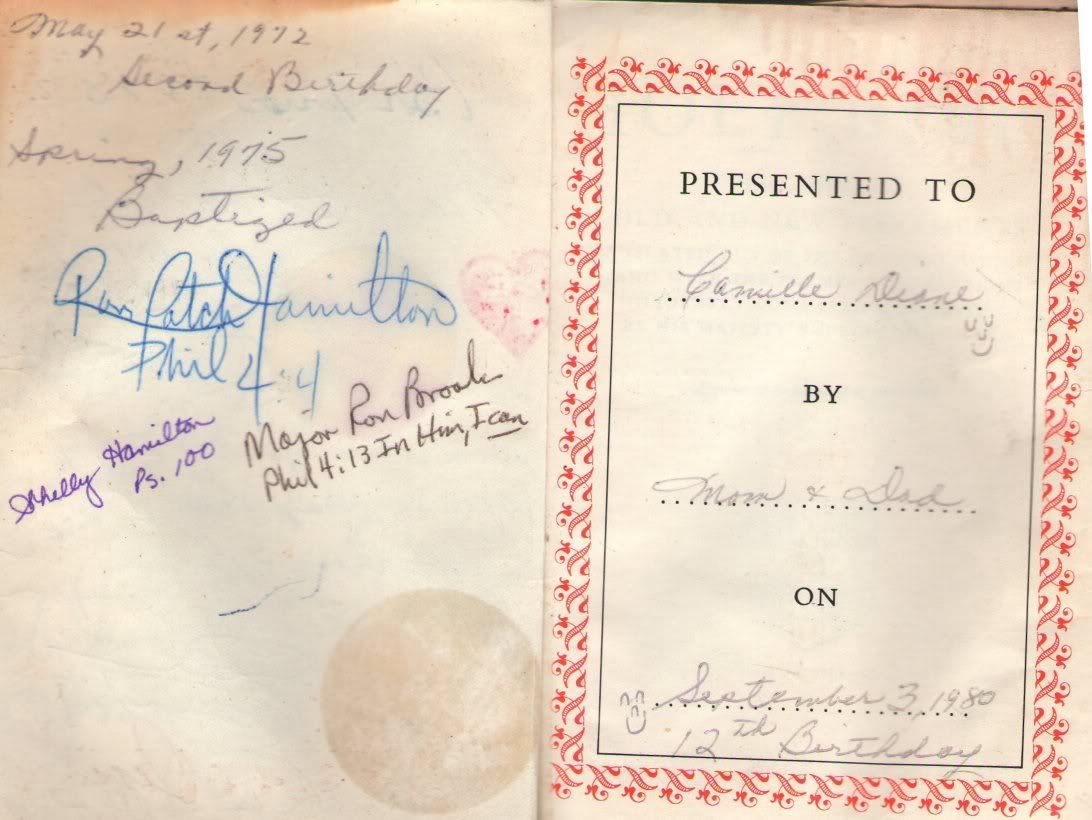 First, isn't my mother's handwriting lovely? Dad's is too. Steve and I must be a throw-back to some primitive inscrutable scrawl.
Notice all the women I got too! Yeah for me. My silent-but-rebel mom probably encouraged that. Or my loud-and-rebel dad. Or both. My parents are gems.
But look at the first signature I got up there at the top — Beneth Peters Jones. I remember when I got that signature. She was promoting her (then) new book Beauty and the Best at a neighboring church, and, of course, I bought a copy! I remember the sweater I was wearing. I loved that sweater. It was pink fair isle that I got at American Eagle which was really cool back then (read: dorky) and not slutty like it is now (read: cool). Also let me say that while that particular sweater is long-gone, I now know exactly how they are knitted (in the round from the top down) and where you can find the math to make your own (Elizabeth Zimmerman) and that kids in British Isles learn to knit such things as they are walking around (because they have this belt that they can shove one needle in). But I've never actually knitted one (DORK!).
I was elated that I got her autograph that day! Really elated. She said something very polite — and she is an extremely gracious and hospitable lady — about it being new and how she liked the snap covers and all that. Bless her. Bless her for being so much a gentlewoman to a dorky 12-year-old.
Weird. All that she and I would share in the years to come but could never predict at that precise moment of my fawning dorkitude and her polite conversation. That my husband and I would travel with her husband and her to Mexico for 10 days (we were the singing side-kicks). That she would barely pass my grad project because she was uncomfortable with the topic (feminism!). That I, like her, would have a first born who was born still. And the rest, of course. . . . All the rest.
Look at those names. If those were the celebrities in my Junior High life, is it any wonder I became who I was? Several names are my pastors. Most of the others are evangelists or just guest speakers.
I got out my High School Bible too. We wear out our Bibles quickly in fundamentalism! It was smaller and not as fine but still KJV (my college Bible was so small that I had to hold it up right next to my nose to read it and it was NASV). It does have my Wordless Book bookmarks still in it because I was a CEF missionary for two summers, and I was prepared (kinda dorky). It has no signatures. I s'pose I had figured out it was a dorky thing to do.
Except for one thing is exactly the same and in the exactly same place — across from Genesis 1. From my Junior High Bible: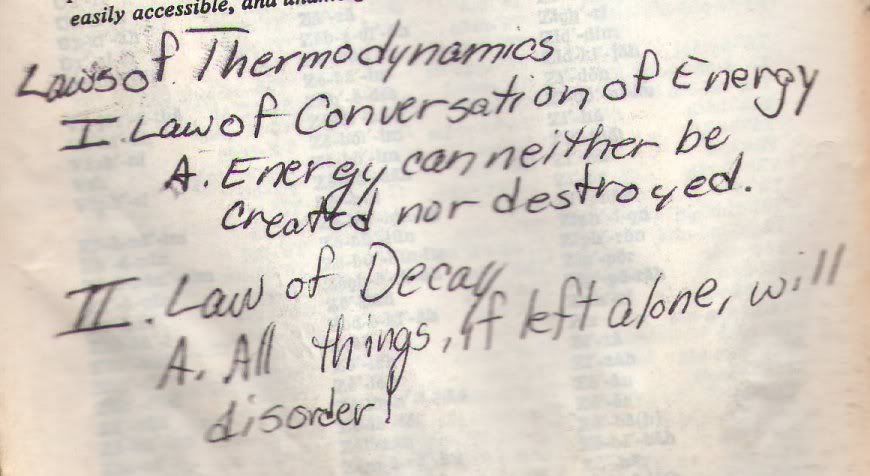 and in my High School Bible: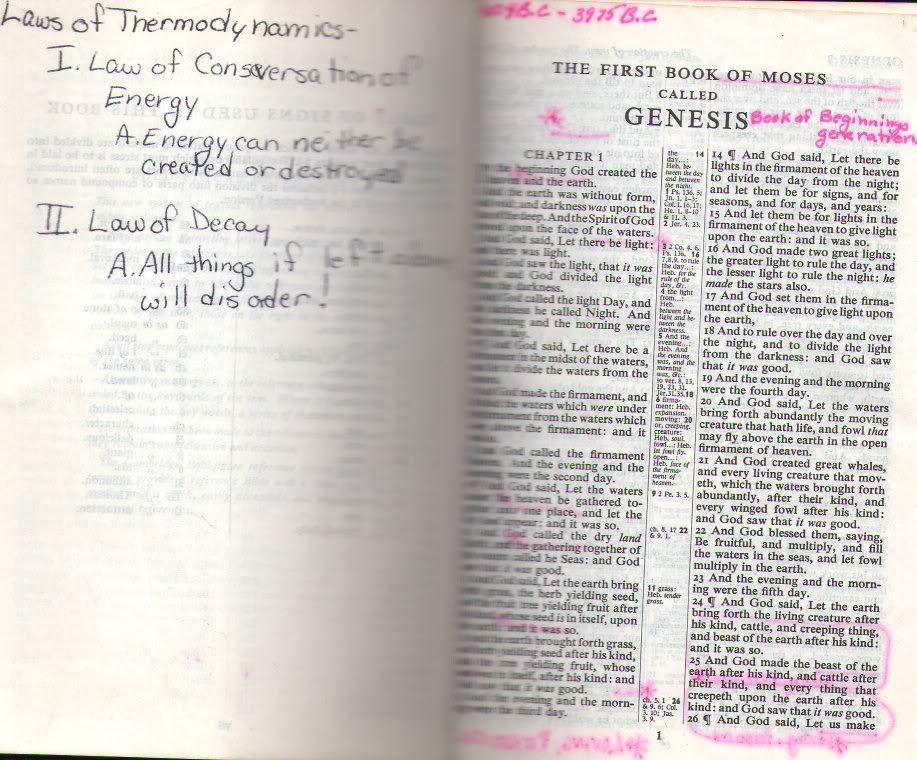 I remember why I wrote it the first time. I was told to! And I can probably take you right back there on 11-mile and Schoenherr and show you exactly where I was sitting in the front row (DORK!). Why did I think it was so important that I transferred that alone from one Bible to the next? I really don't remember.
I'm glad that my High School self caught my Junior High mistake of "conversation" instead of "conservation" in that First Law. Whew!
Now, I know why these where there in that place — because I was a reared a Creationist through and through. Heck — I still have my Handy Dandy Evolution Refuter upstairs, the text that is most often referenced for its fallacies. I remember Science class in 7th grade. Most of our time was spent being told how wrong Carl Sagan got it on Nova the night before. It was our assignment to watch him and to deconstruct him the next day. None of us in that class will ever forget when Andrea Cloud unwittingly said the exact. wrong. thing. in response to Miss Westray's question: "Miss Cloud. Do you agree with Mr. Sagan when he said that the Earth is billions and billions of years old?" To which Andrea shrugged, "Well, yeah. He's on TV. So he must be right." Oooooooh! We all felt her pain.
But I got this in Sunday School, not in Christian Day School. And uh . . . it's curious.
The first law of thermodynamics is actually:
Energy can be transformed (changed from one form to another), but it can neither be created nor destroyed.
Seriously, why did my teacher leave out the first part? She got it from her pastor/husband, I'm sure. Why drop that?
And the second law of thermodynamics has to do with entropy and is best summarized as:
It is impossible for there to exist any process whose only effect is to transfer energy from a system at a low temperature to one at a higher temperature. In other words, heat flows downhill.
Creationists reason from that that everything tends toward disorder and randomness, and, thus, evolution defies that law. I'll let the believing scientists deconstruct the fallacies in that Creationist criticism. I don't really much care about the Science per se.
I care more about how that idea of the inevitability of disorder affects and infects the conservative Evangelical ideology. Everything and anything — if left alone — will deconstruct into chaos. At least that's what I was taught. Work hard — very hard — and you can resist the inevitable decay. Effort can trump entropy. And if it doesn't, if you fail, it's because you didn't work hard enough or right enough.
And if we get it wrong in our hoist-them-on-their-own-petard mudball we lob at Science, how could it possibly be correct in our misunderstood application of this 2nd law to the Christian life? We are so infected with this same effort-can-trump-entropy trope. We actually believe past generations' goofs are a result of their not working hard enough or smart enough or biblical enough.
We think we're better. But we're just as big a dorks as we always were. Just with more and more appeals to misunderstood laws, more and more effort, more and more rigidity, more and more illusions that our way is "biblical." So the Law of Thermodorknamics could be:
The amount of effort is directly proportional to the dorky destructiveness of that effort.