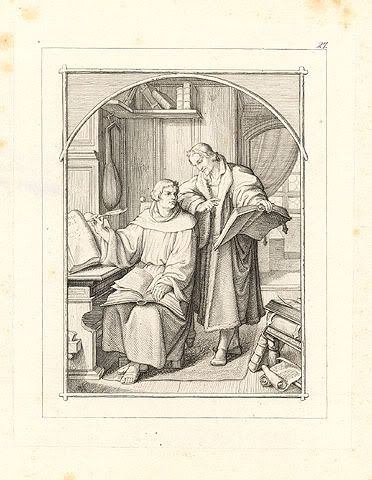 When we left our previous life, two arbitrary things got quilted together:  (1) my blogging and (2) Grant's singing. Because of my activity online (pre-October 16, 2007), Grant was no longer allowed to sing solos at our church. This was simply punitive — one unwarranted, unprovoked, painful action against Grant that was virtually unrelated to my "sin" of blogging. It would be like taking away a teenager's car keys because her sister wrote a "Letter to the Editor" which her parents disagreed with.
This drove me deep underground emotionally. Think Anorexic Spirituality again. My spiritual neediness, I concluded, was sinful and, thus, shameful.
We had started to look for a new church by then, and we had whittled it down to two choices: our present one and another brand-new PCA church just up the road here, Blue Ridge Presbyterian. This newer church was precious and homey. The people were so kind. Their gentle spirit made our eventual decision very difficult.
The elder in charge of music at Blue Ridge was a dear old friend from BJU, Steve Griner. He often accompanied Grant back in the day. It was nice to hear him play hymns in his characteristically masculine style (male pianists play with such vigor). And he had asked Grant to sing a solo one Sunday.
We were both so touched. We weren't even members! Here we were broken and bruised — kicked in the spiritual kidneys while we were already curled up on the ground. I had really, seriously wondered if we were good enough for any church since we were clearly not good enough for our last one where we had pretty deep roots. And still Steve asked Grant to sing. Grant chose the song that Steve had arranged for Grant's BJU ministry team years before, "Take the World but Give me Jesus." Look at the last verse:
Take the world, but give me Jesus.
In His cross my trust shall be,
Till, with clearer, brighter vision,
Face to face my Lord I see.
Early that same Sunday, while Grant rehearsed with Steve, I sat in the nursery with our boys. And Pastor Griffith came in. Apparently, he had been looking for me. He had sought me out. He said, "Camille! I read your blog this week. And I just had to find you and give you a hug. . . . I'm so sorry!"
And there in his Geneva robe, that dear Christian undershepherd gave me a great big bear hug.
So . . . on the same day that Grant sang again was the same day that a Pastor empathized with and accepted me.
I still tear up thinking about it all. I hadn't been hugged by a pastor since I was six and getting ready for my baptism. And to get hugged after all that and even because of all that. . . . well, God's got a good sense of drama.
Now I must admit, I still duck and hide when I see our current pastor or any ecclesiastical leader for that matter. But I do see what he's after every Sunday and its contrast to what I got even very recently though perhaps unintentionally in fundamentalism. When Pastor Lewis (no relation) preaches about our humanity, he says:
Take off the fig leaf.
In fundamentalism, it was "Shut up or else!" But outside of fundamentalism it's okay to admit your flaws and struggles. In fact, it's a sign of spiritual health. Because we're safe in God's love, we can admit our frailty and even our not-so-popular and still-forming opinions. We can let our "sins be strong, but let [our] trust in Christ be stronger," like Luther told his buddy Melancthon.
It's really just another way of singing "In His cross my trust will be."