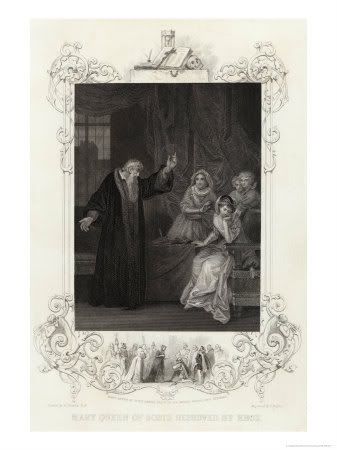 Maybe you know the story of Scotland's most famous hero of the Faith, John Knox. I didn't. All I know about Scotland came from Lucy Ricardo's visit in 1956 and our West Highland Terrier.
The guy was a stinker! He was a Catholic priest, a lawyer, a teacher, and George Wishart's body guard who led Knox to convert to Protestantism. He spoke out against all things Catholic — Mass, Purgatory, Mary. You name it, he ranted against it. He got into such trouble that he was exiled to the galley of a French ship, hopped to Frankfurt, and eventually fled to Geneva with Calvin himself.
Mind you — Knox made Calvin look like a diplomat. Knox's pamphlet against female sovereigns — The First Blast of the Trumpet Against the Monstrous Regiment of Women — was too extreme for Calvin's taste and was, in the end, even according to sympathetic historians, a "tactical error." He was too bifurcated in his thinking, aligning all things Catholic with all things feminine and all things Protestant with all things masculine. He got too caught up in his own argumentation.
Knox ended up being one of the few countryman who wasn't charmed by Mary Queen of Scots' feminine wiles. When he spoke out against her betrothal to Don Carlos, she called him to Holyrood to essentially ask him: "Who do you think you are?" His response, in sum, was: "Nobody but a guy who must warn about dangers ahead." Some contend that modern democracy was born right then and there when an ordinary stinker stood up to the seductive Sovereign! When she started to cry, he responded: "Madam, in God's presence I speak: I never delighted in the weeping of any of God's creatures; yea I can scarcely well abide the tears of my own boys whom my own hand corrects, much less can I rejoice in your Majesty's weeping."
He was a plain-spoken dissident. A bigger rabblerouser than Calvin, and the grandfather to all of Machen's Warrior Children. And while fundamentalism might claim this Scottish stinker as its own, in reality it replicates more Samuel Rutherford and his intolerance than Knox and his fire. Being a stinker without tolerating opposing stinkers ends up being nothing more than narcissism.
So these Presbyterians don't fear disagreement. When we were taking the "New Members Class," for instance, the pastoral staff member explained:
You don't have to agree with Calvinism here. Not at all. But you should know what our perspective is and what you'll hear from the pulpit and in the Sunday School classes.
And Grant and I did another double-take. What? We can disagree? In fundamentalism when dissent is even suggested, the passive-aggressive  and dysfunctional answer is "Why would you want to be here if you don't agree with us?" Or "Sure you can disagree, but just don't mention it." Some covert fundies even insist that all members agree with bylaws and doctrinal statements before joining and label dissidents as "sinning through questioning." But outside fundamentalism, it's a big tent with dispensationalists and postmills and amills all worshipping together. There are Democrats and Republicans. Pedobaptists and credobaptists. Homeschoolers and public schoolers and private schoolers. American-born and foreign-born. Upper- and working-class. We're all there.
So with John Knox as the founder of our polity, dissent isn't just patriotic. It's positively Presbyterian!
Let kings fear, let them tremble, because there is judgment coming if they do not do what is right.

John Knox