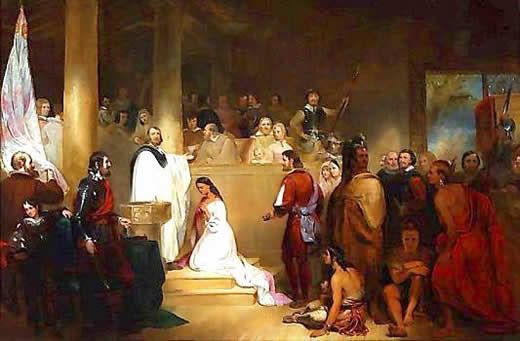 There are times in this recovery process that I feel a little like a Native American dropped in the middle of ol' England. It's not that I regret or begrudge my more organically American religious culture. I miss it sometimes. But this newer-to-me world seems so . . . foreign.
We were taking the New Members Class a year ago. I had never taken a New Members class before. I don't know why exactly.
But the seminarian leading the discussion said:
Remember your Baptism.
Huh? What's that mean? How?

In (credo) Baptist circles, Baptism is a statement — a public declaration of your commitment to living for Christ. A Coming-Out Party. For some Reformed Baptists, it's a carrot-on-a-stick. An initiation rite so hard to reach, that once you get there and get in and get wet, you know you're "in."
I do remember my baptism. I was six. It was in the Fall. I had practiced in the bathtub for months beforehand with my cat, Charmin, officiating. My mom bought me a pretty little dress with small embroidered flowers on it that was "permapress" or "wash-n-wear" or something so I didn't have to wear a robe. And she tied my hair up in two skinny pig tails to stay out of my eyes.
I remember walking out. Seeing the crowd. Listening to the pastor. Nodding. And getting wet.
I also remember the doubt that my first grade teacher at Grace Baptist School put in my gut because the next day when I told her about the previous Sunday's event, I couldn't articulate exactly what it meant (I was six and I was painfully shy). So I wondered if it took. Since I couldn't say.
But that kind of remembering is not what the phrase means. With credo-Baptism, baptism is something you do. With pedo-Baptism, baptism is something God does. And that sums up for me why I am a fully converted pedo-Baptist.
The credo sees baptism as an act of obedience. The pedo sees it as a "tattoo" with the Family name. The credo describes Baptism as a recent part of the Church Age. The pedo describes it as a continuation of circumcision. The credo celebrates individual commitment. The pedo celebrates communal involvement. The credo says to God, "I'm yours!" The pedo hears God say, "You're mine!"
In Fundamentalism soooo many services ended with a hand-raising question:
Do you know beeeyond a shaaaaadow of a doubt [voice quivering] that if you died today, you would go to Heaven?
So after hearing the Word and (hopefully) feeling the Spirit working, doubt was introduced as a test of your justification. You get to the point that you ignore the Stirrings just so you can push past that question.
And, you know, if you catch me on a particularly lousy day, I might not know. Luther didn't always know. But my doubt doesn't discount God's salvation. God's bigger than my big (negative) feelings.
When Martin Luther told us to "remember your baptism," he was admitting that doubt was part of being human. It's not proof that you're not saved (as we heard in fundamentalism) or proof that you are saved (as the Puritans assumed). It's proof that you're a finite creature, tempted to despair by the Great Doubt-Stirrer himself.
Baptism is a comfort to us (I'm sensing a theme), not a test. Luther puts it like this:
If, then, the holy sacrament of baptism is a thing so great, so gracious and full of comfort, we should pay earnest heed to thank God for it ceaselessly, joyfully, and from the heart, and to give Him praise and honor. For I fear that by our thanklessness we have deserved our blindness and become unworthy to behold such grace, though the whole world was, and still is, full of baptism and the grace of God. But we have been led astray in our own anxious works, afterwards in indulgences and such like false comforts, and have thought that we are not to trust God until we are righteous and have made satisfaction for our sin, as though we would buy His grace from Him or pay Him for it. In truth, he who does not see in God's grace how it bears with him as a sinner, and will make him blessed, and who looks forward only to God's judgment, 'that man will never be joyful, in God, and can neither love nor praise Him. But if we hear and firmly believe that He receives us sinners in the covenant of baptism, spares us, and makes us pure from day to day, then our heart must be joyful, and love and praise God. So He says in the Prophet, "I will spare them, as a man spareth his own son." Wherefore it is needful that we give thanks to the Blessed Majesty, Who shows Himself so gracious and merciful toward us poor condemned worms, and magnify and acknowledge His work.
God loves me and pities me like I love and pity this little punkin standing in here in a pull-up. God has lifted me up, identified me as His Own, and has given me His Name. Just like a Daddy does with his mysterious and other-worldly child placed in his arms. God started it. Just like a Mommy first loves that wrinkly, wriggly bundle before the child ever loves back.
God loved me first, so why wouldn't I run into His loving open arms? When I doubt that I'm good enough or saved enough, I remember that God's big enough, merciful enough, and loving enough.
That's something to remember. For pedos and credos!