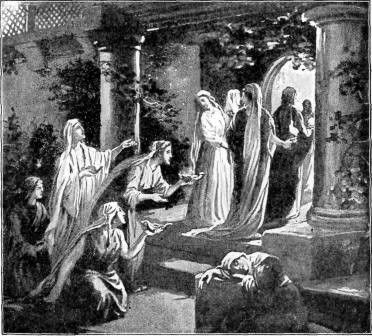 During a series on Christ's parables, we hit eschatology twice. You know eschatology — that big bugaboo that really defines conservative Evangelicalism in the 20th century.
I was born and bred a dispensationalist. Those charts lined the Sunday School classrooms. We had all the  MacArthur and Chafer books at home. Ryrie was a regular author among my college texts. We BJU grads joke that former executive VP Bob Wood's usual (but still fictional) 3-point outline was:
Turn or Burn
Singe or Cringe
Shake or Bake
Prophecy sermons were a sometimes-favorite (depending on which current event was worrisome). Van Impe lived up the road from us. At age six, I laid awake all night panicking that the USSR was going to attack the US because our Whirly-Bird teacher claimed it would happen any day. A Thief in the Night terrorized my dear brother too.
I threw away my dispensationalism, however, in a truck stop trash can somewhere between here and Missouri two years ago. We had been reading LaHaye's Left Behind series in the car. This is our cheap version of audio books — I read books out loud to Grant while he drives.
The Left Behind books were some of our favorites. Not because we thought of them as terrific literature (I always joked that they are about in the same intellectual strata as The Munsters), but because I did a goooood Antichrist impression. My Carpathia voice was da bomb!
Really. The books are dumb. Really, really dumb. The female characters are all two-dimensional, all the "good guy" conservative Evangelicals are rich and tech-savvy Hummer-owners (puhleeeze!), and every ethnic stereotype gets exploited. Yawn!
But the end infuriated me. Christ has returned. He's standing right there fellowshipping with the Tribulation Saints. He's right there in front of them. And what does LaHaye have the characters do? They whisper to each other and say, "I wonder what he's going to do next?" and they scurry off to their commentaries to find out.
I. am. not. kidding.
It was a light-bulb moment for me. The Word Himself is completely present in the flesh, and the protagonists want to know his next move? They run off to the 10th generation copy (a commentary) to find out?! What?
It all hit me. Dispensationalism is more about knowing the future before anyone else does. The rune-casting within the hyper-literal hermeneutic makes the few who can figure out the mystery significant. No preacher gets voted off in Dispensationalist Survivor! Knowing-it-all is the highest virtue. That's why LaHaye's fictional ending makes sense within the dispie ethic: Sure, sure — we're relieved the battle is over, Jesus. Thanks bunches! But we just want to have a leg-up on these Sign-of-the-Beast-wearing bullies you used to pounce on us. Give us a minute here while we look up your return in Walvoord's index. Let's see, let's see . . .  page 34. I wonder what 7 + 3.5 + 365 + 10.5 + pi equals? . . . Rayford, get the Strong's, would ya? . . .  Where'd I put my Scofield?"
Finally seeing it as more about knowing than loving, more for the few than the many, more about the being right than being kind, more about the charts than the Sermon on the Mount, more about men than Jesus, I literally chucked the last novel in the can along with Gavin's stinky diaper. I was done.
But I still get a sick lump in the pit of my gut when the usual dispie Texts come up in a sermon series. I feel the threat coming — the one that kept me up all night after Whirly-Birds. That I'm not ready, that I'm not good enough, that I'm going to be Left Behind. "I wish we'd all been ready. . . ."
[youtube]http://www.youtube.com/watch?v=Z-DzoRQJ3OQ&NR=1[/youtube]
But that's not what he said. That sermon about usual end-times Parable of the Ten Virgins ended this way:
What keeps this from being a Turn-or-Burn message? Because that's the way this would normally be preached. . . . I am not saying, "Because Jesus is coming back, go get right." You know, it's not a threat. That's how it's usually preached. "Jesus is coming back, and so you'd better get right. Jesus is coming back, and so you'd better shape up.  Jesus is coming back, so you'd better. . . ." It's not a threat. Jesus's return is not a threat. It's a blessing! It's something that we should take and say, "Oh God, hasten the day! Hasten the day!! When our faith should be made sight and our prayers should be made praise. Lord, hasten that day!" It's not a Turn-or-Burn message because I'm not saying, "Go get cleaned up." I'm not saying, "Go buy oil." I'm saying, "Go find Christ. Go find Christ! Go find the Groom. Go find a relationship with the Groom." So that whenever He returns, you can say, "I was waiting. I was waiting for you!"
What? The Ending doesn't make me want to crawl under a rock? You're not going to try to guilt me into a particular culturally safe kind of behavior?
Fundamentalism (i.e. dispensationalism. I still don't see much difference) really gets it all backwards. They make love a duty instead of a joy. They make a blessing into a threat. They make Christ's finest sermon irrelevant for the Church Age. They turn a relationship into a religion.
A blessing and a comfort! Wow!! It really is the Good News!