Chickens can be taught that only one specific pitch [of a ringing bell] is a food-signal. . . . If one rings the bell next time, not to feed the chickens, but to assemble them for chopping off their heads, they come faithfully running, on the strength of the character which a ringing bell possesses for them. Chickens not so educated would have acted more wisely. Thus it will be seen that the devices by which we arrived at a correct orientation may be quite the same as those involved in an incorrect one.
Kenneth Burke, Permanence and Change
Did you hear about the guy in NYC who was so closely following his car's navigation system that he drove straight down a set of railroad tracks . . . right into an oncoming train? No kidding! He and the passenger barely escaped by jumping out of the car.
Piety can be a bad thing.
Burke called it the difference between motion and action. Breathing is motion; sighing is action. The former is involuntary. The latter is intentional and meaningful. Burke explained further that while evolution described the evolving force as simply moving, creation centered on active, intentional God.
You get the picture.
Burke wanted us to act like humans, not move like chickens. Don't follow the talking box in your car to your certain demise!
And when it all comes down to it, I'm pretty positive that that's why Republicans, specifically those on Christian Right, are so ticked right now. We had been going along, following what our pastors, Christian radio personalities, family, teachers were telling us: "Vote Republican. Don't mess this up. Just vote Republican. They get us. They understand. They are fighting for us. Just do it."
Don't act. Just move.
And now we're face-to-face with the realization that we got PWNED.
John Whitehead from the Rutherford Institute is as blunt and accurate as you can be:
Like moths flickering about a hot flame, the leaders of the Christian Right are eager to get close to political power. But as anyone who has played the game knows, politics is corrupt and manipulative. And the Christian Right was manipulated by the Bush Administration.
And we're processing the grief. Deep down, nearly every reaction I've got to my recent and public less-than-loyal-to-the-GOP comments can be described as denial pure and simple. And to this participant in and student of American religious rhetoric, the reactions cluster around certain topoi, all variations on the red herring fallacy. So I give you:
The Top Ten Campaign 2008 Fallacies from the Religious Right
(Dog Latin gratis)
"What about them?" Formal Name: Tu Quoque.
Let's get this one out of the way. Because after my friends on the Religious Right read that header, they're already muttering "You gonna give equal time to them, aren't you?" under their breath. Let's face it: I don't know "them." I haven't spent my life with "them." I don't get vituperative reactions from "them" when I disagree with the standard GOP line. So this is all in the family right now.
Potential Retort: "That's not my project." It worked in grad school. Might work here.
"They are all liars!" "They both do it!" Formal Name: also Tu Quoque.
This is usually the first line of defense, and what it really reveals is severe undertow of cynicism. It's the Republican version of "Yo Mama!" As an attempt to put the opponent on the defensive, it's usually general and imprecise so an effective defense is impossible.
Retort: You can't respond with some Zen-like "Aren't we all liars deep down?" No, you have to reflect feelings. "It is easier to be mad than sad."
"What about Jeremiah Wright?" Formal Name: Religio est Freakium. It's a combination of Ad Hominem and Guilt by Association with an extra dash of freak-out over weird religions.
This is the response I get the most. And it irks me. Because it's like asking a doctor on the sidewalk, "Hey, I've got a pain right here. What could that be?" Your doc isn't gonna tell you without research and observation. And neither am I! I'm trained in studying religious discourse, and a clip shown ad nauseum on Fox News doesn't cut it. I know enough about American-grown religion in the black community a la the Nation of Islam to know that we white people just don't get it. And this white woman is not going to attempt to get it quickly.
Secondly, HELLO? I spent 20 years within what was for all intents and purposes a pretty racist place. And I don't buy their defense of racism. There was good there. A lot of good. And, like all human institutions, there was a lot of foolishness, even dangerous and hurtful foolishness. People in glass houses . . . .[/rant]
The Left is doing it about Sarah Palin too. Everybody's up in arms that she's a Pentecostal. And yeah, she is. That doesn't make her evil. It may reveal a part of her, but it doesn't reveal all of her.
Retort: "Can we get back to the issues?"
"How could you?" Formal Name: Argumentum ad Betrayalium. It's the opposite of Argumentum ad Verecundiam. And it's related Bandwagon.
This response is more emotionally weighty than the flabbergasted and understandable "Can you explain this one to me?" It communicates that feeling of (unjustified) betrayal that you're not voting for the Republican candidate instead of the justified betrayal that the GOP has delivered a real loser candidate. It's a diversion because it's easier to be mad at an unemployed goof like me than to get mad at someone powerful or out-of-reach. The real problem here is a lack of personal boundaries.
Retort: "Thanks for your concern. Would you like some bean dip?"
"Terrorist!" Formal Name: Reductio ad Terroristum.
There's nothing you can say after that.
It's just like Reductio ad Hitlerum with a 21st-century twist. Or Reductio ad Arabium: "He's an Arab!" Or Reductio ad Abortum: "He kills babies with a hammer!"
Retort: We need to update Godwin's Law with Camille's Corollary: "As the Religious Right's candidate falls in the polls, the number of accusations that the opposing candidate is not a Christian will demonstrate an inversely proportional rise."
"Polemic!" Formal Name: Reductio ad Spinum
I believe this response is intended to mean "Quit stalling. Get to my point." But in the grand scheme of things, it is expressing frustration at argumentative creativity. It means, "Quit dancing and stick to the talking points." Personally, I don't stick to the talking points. That's not what I do. If you don't like it, talk to someone who'll respond like you want them to.
Retort: "Huh?"
"How could you fall for all that celebrity/eloquence/schmaltz/rhetoric?" Formal Name: Reductio ad Gorgias
Okay. I'll ignore that slam on my academic discipline for now. . . . There has been a ton of schmaltz. No doubt. On all sides. And it is tiring. But who says I am falling for it? Do I buy Dr. Pepper because I like the jingle – even if it is a great jingle? Nope. I like the taste.
Retort: "I'm not."
[youtube]http://www.youtube.com/watch?v=jvCTaccEkMI[/youtube]
"At least, vote for third party!" "Whatever you do — don't vote for third party!" Formal Name: Reductio ad Authoritum est Rubberium et Tu est Glueium
Talk about an argumentative tennis match. "Third party is the least of all evils;" "The third party is the biggest waste of your civic energy." "At least be consistent with my values and vote for Bob Barr;" "You think Ralph Nader could actually win?" Whatever it is you're planning to do is wrong and you must do the opposite. Which is also wrong so you must just vote for the GOP: it's the only possible choice.
Retort: "Vote your conscience. I'm voting mine. That's all you have left after this campaign."
"If you think you're offended, well, I'm offended more." Formal Name: Reductio ad Colbertum
It is an attempt to pirate the usually left-wing trope of "political correctness." It falls flat. It's like when a rich friend complains that his boat needs a new whatever-it-is-that-boats-need while your dishwasher is broken, your credit cards are maxed out, and your goofy, incontinent dog is bald from all the obsessive licking.
Retort: The only way to respond is to imagine the person is channeling Stephen Colbert. Then, with comic irony fully intact, you may move on. WristStrong!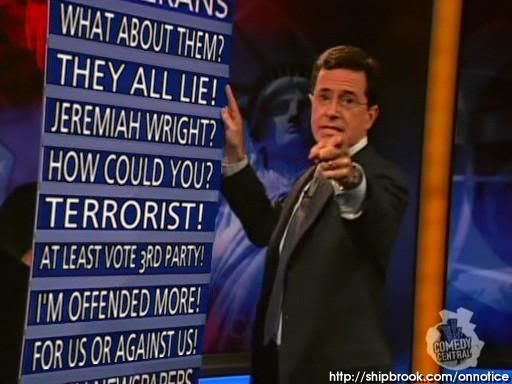 "Either you're for us or you're against us." Formal Name: Reductio ad Absurdum
This is the most sacrilegious of the fallacies because it takes a Scriptural phrase and imposes that formal either-or bifurcation on anything and everything. "You're either for McCain or you're a communist." "You either love America or you're voting for Obama." "You either are smart and agree with me or you're an argula-eating, Huffington-reading loser."
Retort: "Says who?"
The Christian Right has been so painfully loyal to the GOP since the 1980s, and now we're hearing the warning whistles and seeing the light coming closer and closer. And we're bickering amongst ourselves about who jumped off the tracks first. Just ACT!
Be pious to the Gospel! Don't be pious to the Party.