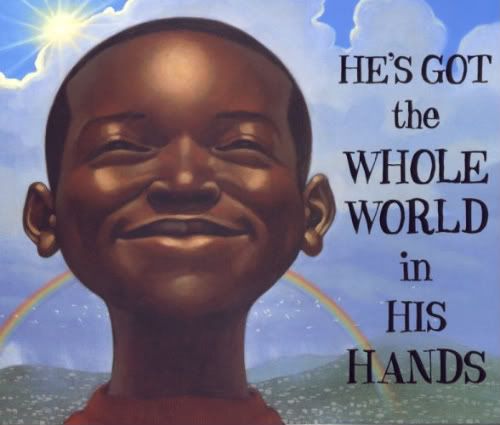 We just got this book from the library, and it was quickly my sons' favorite. They love the pictures and that we can sing along with it. And they love the message. Gavin even repeats, "You [in] God Hand, Mommy!" It warms my heart and encourages my spirit.
I remember hearing a sermon in my indy-fundy Baptist church when I was around six-years-old about how this song was wrong: "If God's got the whole world in His hands, then He's got sin in His hands. And that's just not possible." I was disappointed because the song's message comforted me even then.
I now see that critique of the spiritual for what it really is: a near-gnostic, dispensationalist grasp for control.
But in spite of our flailing and our eschatological fads, God is in control. He is sovereign. He's got the whole world in His hands! You and me, brother!
It's odd for me to digest the intense reaction to my speaking out about my politics. My Facebook wall is even more colorful. Because in my view, I really haven't changed. I'm just able to express it publicly now.
For a long time, people have whispered, "That Camille Lewis has some strange ideas." They've called me "dangerous." They've passed along their conclusion that I "have trouble with authority." And I've even lost some friends because they now know the whole me.
This isn't some wide-eyed, bandwagon-jumping celebrity worship for me. This vote actually makes sense in light of the last forty years. I learned my politics from elementary school through graduate school. And I've grown from a nondescript grey to a unwavering scarlet and now to an vivid indigo.  I learned that the company line was often misguided. That quilting faith to politics was often an ugly mess. That by the 1980s all good conservative Evangelicals were Republicans. That paleo-neo-theo-cons have hefty amount of naiveté in their worldview. That even well-intentioned patriarchs need rules. That learning a new (cultural) language helps you understand your own better. That the Left isn't evil and that the Right is often mistaken. That I am pretty much plumbed to live in a liminal life. That the Religious Right has calcified. That my voting for Barack Obama is probably the most active political thing I've ever done in my life.
And most importantly that the Gospel changes the way we treat our friends, our neighbors, and our enemies.
And that's really what I've been getting at. Remembering that we're all totally unable to save ourselves means that we ourselves are as vulnerable to error as the next guy. When we feel that vulnerability, the knee-jerk response to make the divisions clearer. In other words, we identify with our friends because we divide against our enemies. That makes us feel safe and proud. "Identification is affirmed with earnestness precisely because there is division. Identification is compensatory to division." If we sense a friend going to "the dark side" (a.k.a. the Other('s) side), we beg and plead for them to return to safety as if s/he's going to run back into God's hands. As if any of us can run in and out of God's hands.
But muddling the lines is humbling. It points up that it's not the human lines at all that matter because God's taking care of His own as He always has.
That's the comedy I've been talking about.
Christians keep repeating "God is sovereign!" during this campaign season. We're all trying to see our way through the fog, the violent outbursts, the schmaltz, and the issues. It's overwhelming.
But there's more. And I really think that cover illustrates that "more." It's not that we just sit quivering in the fetal position in a dark corner repeating "God is sovereign" over and over until we pass out from exhaustion. It's that we can smile in contentment. Knowing that God is in charge emboldens us and enlivens us. It's confidence. It's joy. We are at peace inside so we don't have to pick fights on the outside.
Vote. Speak. Protest. Sing. Laugh. Stomp. Dance. Stick stickers. Don buttons. Stuff envelopes. Donate cash. Yell if you must.
Just act. Like a little kid who knows he's safe because his dad is nearby. God will redeem what you do even if it is imperfect and full of sin (which it will be). Just like He has redeemed us.
God doesn't stand back like a Great Watchmaker observing how the world moves. He doesn't stand back and hold His "nose" because this world stinks with our sin. This is Immanuel's Ground, my Father's World. And God lovingly holds our hands because when He looks at us, He sees Christ.
So go. Act. It's gonna be okay.