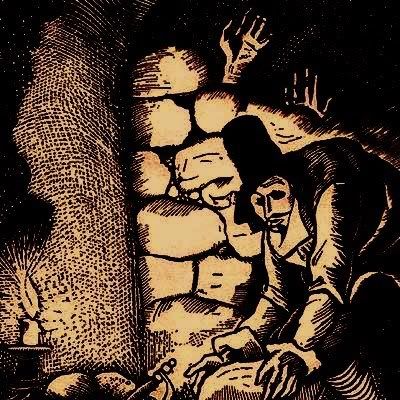 A busy kitchen remodel and a frenetic Disney vacation have given me time to digest some of the more subtle but still dramatically different ideas I'm hearing outside of fundamentalism.
In fundamentalism, appeals to humility are a persistent trope. Keswick author Andrew Murray's little book Humility is a regular assignment to BJU undergraduates, and so it both describes and prescribes fundamentalist preaching on the subject. You can read the text for yourself. In essence, Murray laments that humility should be the chief virtue we pursue. Which is like saying that we have to work hard at relaxing or we need to wash ON some dirt. That just doesn't make sense.
It's as (oxy)moronic as saying that we have to earn grace.
So I sat with my mouth hanging open this past Sunday during the sermon about "Putting off Pride." Pastor DuBose described pride initially with Edgar Allen Poe's "Cask of Amontillado." The antagonist Fortunato falls into a drunken state and is immured — goaded by his destructive arrogance in his own prowess.
The definition of pride in this sermon?
Pride leads to isolation. Moral self-righteousness, correct doctrine, or elaborate formulas all let the walls build up and destroy community. They are all prideful.
What? I have never heard that one before. Never. Never, ever.
I know that my rank introversion makes isolation an easy habit. Being social or part of a large group is not my bent. And that natural and God-given personality quirk can be good. But it can also be insulating and dysfunctional.
Even (dare I say it) . . . separating.
Fundamentalism got it all backwards. In that ethic, humility is putting yourself down to put God up. It's binary. It's either-or. It's individualistic. It's something to strive for.
In this new world, humility is being with. It's being with God and with your brothers and sisters and with your neighbors and with your "enemies."
And because this is so new and so against my personality, I'm really out of practice.