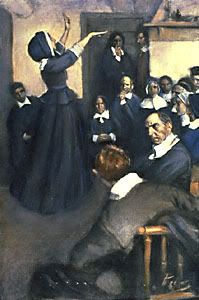 So I do know this — that the grace that justifies is the same grace that sanctifies. I know that much in my head.
But understanding what that really means takes me a lot longer. I need to hear it over and over and over. In different ways. Lots of different ways.
And it still surprises me.
So that's what our pastor brought to a fine point when he said:
We didn't merit salvation at the beginning, so we can't keep it through our merit either.
Oooooh! Yeah!! You're right!!!! Then what's with the guilt trip I've been on for a couple of decades?
What they say in fundamentalism is that if they don't preach "standards" or "rules" or "responsibilities" or "duty," there'll be chaos. That we're all bent toward lawlessness, right? It's the natural course of events. So we must fight lawlessness! We need rules! We need authority!!
But in the spectrum between hypernomianism (legalism) and antinomianism (lawlessness), true Christianity lies closer to the antinomian side than its opposite (because we have a natural bent toward legalism too!!). We're supposed to be more Anne Hutchinson than John Winthrop. More hippie than Hitler. More play-at-home-mommy than prison matron.
But don't take my word for it. Take Martyn Lloyd-Jones':
There is a sense in which the doctrine of justification by faith only is a very dangerous doctrine; dangerous, I mean, in the sense that it can be misunderstood. It exposes a man to this particular charge. People listening to it may say, "Ah, there is a man who does not encourage us to live a good life, he seems to say that there is no value in our works, he says that 'all our righteousness are as filthy rags.' Therefore what he is saying is that it does not matter what you do, sin as much as you like." . . . There is thus clearly a sense in which the message of "justification by faith only" can be dangerous, and likewise with the message that salvation is entirely of grace. . . . I say therefore that if our preaching does not expose us to that charge and to that misunderstanding, it is because we are not really preaching the gospel.
Steve Brown teases us toward understanding the same sanctifying grace by giving away "3 free sins" and by talking about our scandalous freedom in Christ. He states it like this:
Now hear something very important: while the apostle Paul was not antinomian, he was very close to it. Just so, while the Reformation leaders were not antinomian, they were very close to it. Also, while the Christian faith is by no means antinomian, it is very close to it.

What's the point? Paul would never have had to write a defense of his teaching on freedom if he had not been very close to heresy. Martin Luther would never have had to come back from Wartburg (where he was in hiding) to straighten out the libertarians in Wittenberg if his teaching had not at least implied something close to what they were doing. The Christian faith would not have had to deal with the heresy of antinomianism unless there was something in it which seemed to imply that particular heresy.

That brings me to a syllogism with two premises and a conclusion. Premise: The real Christian faith is close to antinomianism. Premise: A lot of modern day Christianity is not at all close to antinomianism. Conclusion: A lot of modern day Christianity is not real Christianity.
And I never heard that in fundamentalism. Not anywhere. Not ever.