Our Evangelical foremothers in New York state were so moved by the Second Great Awakening but so tied to their family obligations that they translated the push for global missions into home missions. In 1833, Abigail Goodrich Whittelsey started Mother's Magazine to encourage mothers in that calling — to win their children to Christ. The magazine warned about the dangers of corsets and birthday parties. Even sugary snacks were interpreted to be a religious choice.
By the Civil War, however, men had "professionalized" the magazine's focus entirely, and the topics were more . . . well, bland. The copy was little more than sappy poetry and heavy-handed stories. The magazine changed its name after the turn of the 20th-century — to Family Circle.
From the winning the lost to the teaching the kids to rhyming the couplets to . . . well, "toning up your trouble spots."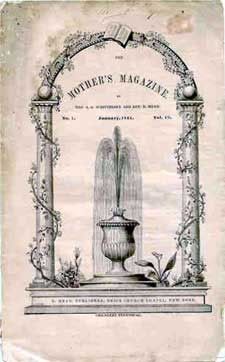 When I was young, I was taught that really committed Christians were all missionaries. You know the bargains thrown out from the pulpit, "If you really loved Jesus, you wouldn't be afraid to go to Africa! You would tell God that you'd go anywhere for Him. After all He did for you!"
I heard the missionary stories. You know, about Amy Carmichael and her providentially brown eyes. Ti-Fam, Witch Doctor's Daughter. Hudson Taylor. Ringu. The missionary stories were always the best ones — tailored to elementary school attention-spans. Brief, action-packed, with cliff-hangers at the end of every telling. The missionaries were bigger-than-life heroes. Wow! So exciting.
And we kids loved it when missionaries came to speak. Slides! We all liked slides! It was TV for church.
And then I met them. The missionaries. I studied them. They were so . . . vanilla. They were so unlike all those stories I'd heard. Granted, they were probably exhausted from deputation, irritated by the American materialism, and just plain peeved at having another annoying kid messing with their display. But I didn't know if I could be one. Did I really love Jesus enough to leave everything and go to the bowels of the rain forest and eat bugs? Could I be as passive as they were?
I was actually a "summer missionary" for two summers. It was hard, fulfilling work. But was it my "calling"? I didn't feel like I fit.
Then they changed it on me. No longer were we told to go on the mission field. Around high school and college, the plea changed from "missions" to "full-time Christian work." "If you really loved Jesus, you'd devote your life to His service. You'd be a minister, a pastor's wife, or a Christian school teacher."
Huh. Now this seemed do-able. I could stay here. No bugs on the menu here.  I could devote my life to service here. I loved my Christian school teachers. I could do that. At college, I thought, "I could do this college teaching thing. I can see that. That would fit."
And so I did. I devoted my life to that particular second blessing — to becoming a local "religious professional."
Did you notice what happened with that change in appeal though? From global missions to national work. From taking the Gospel out there to helping us here within our own segregated Christian world. From the Universe to the Province. From the Great Commission to . . . well, a lesser commission.
You don't hear the "full-time Christian service" message anymore — and it's not just because I am no longer in "full-time Christian service." I felt the change before we left. I don't know when it got dropped precisely. But it sounds kind of quaint when I remember it here. Now the appeal for the really-committed is narrower-still. Instead of going out to the world or going out to the church-school, we don't go out at all. We stay home. Well, women stay home. Men, you can do what you want; it doesn't really matter as long as the Little Woman is where she belongs.
So we've individuated the second blessing even further. From the world to the city to the home.
Is that really what we want? It might seem like we've so diversified the "call" (i.e. the "pitch") to include everyone — not just the "vanilla" missionaries or the talkative teacher-sorts — but every household and every family. But at what cost? Do we realized how we're being absorbed into the Hegemon where our message of Christ becomes well . . . just about "toning up"?