Disclaimer: It's not about you. Or me. I wrote this and published it in advance a week ago. So any resonance you might see is simply providential, and I'm leaving it as it stands.
This is a representative anecdote demonstrating the larger problem I'm still dancing around.
I've got Asperger's Syndrome. There. I said it.
And before you proceed to pat me on the head and tell me how wrong and deluded and silly I am, just stop. I've heard it all even if it's not directed at me exactly. Yeah, yeah, yeah, I seem too "normal" to you. You know people who really have it, and they are really, really weird (like that makes me feel better!). No Aspie goes into the Humanities anyway; they are all in the hard sciences. Mm-kay. As long as you've got it all figured out.
The fact is that you're not in my head. The fact is that it looks different for women than men, different for adults than children. The fact is that a lot of women don't figure this out until their forties. The fact is that we all learn to cope in time.
What is it anyway? Well, it's a kind of high-functioning Autism. Yeah, I know. The big-A is rather scary. But while Auties have a lot of language difficulties, Aspies do pretty well with verbal communication. It's nonverbal communication — social cues — that Aspies completely miss. With early intervention and good teachers, an Autistic child will "grow" to be classified as Asperger's in adulthood. Some define Aspergers as an extreme male brain, so when a woman has it, it seems like she's just more masculine in her read on social conventions.
It's a spectrum, you see. Part of the neurological diversity that has always existed in the human condition. You might even be "on the spectrum." Most creative people are.
Glenn Gould was an Aspie. Some think Thomas Jefferson was. Frasier Crane. Bill Gates. Dan Akyroyd. Nearly every character on The Big Bang Theory has some variation on Aspergers. Some even call it the "Mr. Spock" syndrome. Some think that all cats have Aspergers.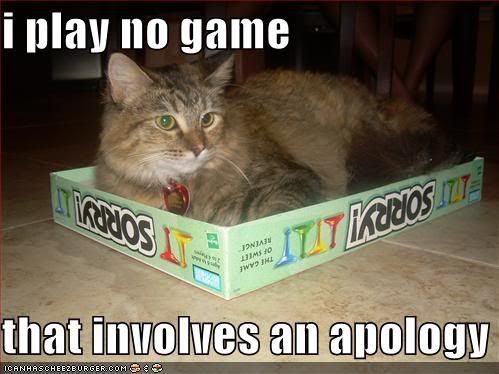 What does it all mean?
It means that if I'm having a conversation with you, I can look at you intently while you're talking but once the conversation ball is in my court, I can't make eye contact if my life depended on it. I really can't think when I'm looking at you — too much data.
It means that at a party, I'll probably be playing with some stim toy while everyone's talking. I used to have a set of stim toys on my desk to play with during long conversations.
It means that if I have to host a party and you ask me what you can bring, I will blink and stare and really have no idea what to tell you.
It means I bite my lip a lot when I'm tense.
It means that while you're talking, I will stare at your sweater (especially a Fair Isle or an Aran) and think about those stitches. I'm listening. Really. But knitting is so fascinating. It's like something has to occupy that part of my brain while my ears are working too.
It means that while we're talking on the phone, I'm playing cyber-solitaire.
It means I really, really hate the phone. Hate it. I'll answer it if I have to, but I'd rather talk face-to-face or write you a note. And the poor back-and-forth-response-time of the cell phone drives me insane because I have trouble with the nonverbal cues anyway that tell me when it's my turn to talk. Mess with that and I practically have to take a nap after a cell phone call.
It means I'm not good with apologies. Not that I don't want to apologize. I just don't pick up on the cues that I'm supposed to apologize. So I either over-apologize or never apologize.
It means that I feel what you're feeling very deeply — to an almost uncomfortable and cloying level. Conventional wisdom says that Aspies don't feel empathy. That's actually being proven untrue. It's that we feel such intense empathy that we get sensory overload and we shut down.
It means that if you ask me where the pot holders are in my kitchen, it would be easier for me to show you than tell you. It's like the task skips the verbal part of brain. It goes right from my fingers to my brain and never hits my mouth. So it's not that I don't want to tell you. It's not that I'm being proprietary or selfish. I just have a really hard time spitting it out.
It means I have a hard time asking for help.
It means that if I have to buy toothpaste for Grant, I'll never buy the right brand even though he just told me the exact description 30 minutes earlier. I don't get verbal instructions well at all.
It means that I don't really do well with handling the finances. I have poor executive function.
It means that I think certain colors have a smell. To the point that I plan what soap I use based on what color I'm wearing.
It means I learned to swim from a book.
It means that I really don't like fiction. I don't know why either. But . . . I just don't.
It means that I am intensely interested in a few things. Really. Obsessed even. Deeply. And I'll voraciously read everything on that topic. Nothing can stop that interest until it just dies down. It will dissipate eventually. But if you happen to ask me a question about that interest, I'll only tentatively begin to answer because . . . well, I scare people with the obsession. I sound more like Cliff Clavin than I want to admit.
It means that I learned to read at age two.
It means that my "playing" in childhood looked more like sorting.
It means I have an inordinate attachment to things. My Barbies. My Fisher Price toys.
It means I intellectualize everything.
It means that I'm regularly exhausted from intellectualizing every interaction. That's a lot of study! And it wears me out.
It means that I could easily live in-between my own ears.
It means I over-react or under-react. I talk too loudly or too quietly. I gesture too little or too much. I don't read the appropriate quantity and quality of nonverbals well.
It means that I'm sensitive. Over-sensitive even. But I have a hard time expressing it, so I work very, very hard at it until I can spit it out.
It means I have really awful handwriting. My signature has degenerated into a mess. My last name looks like "Iwug."
It means that this is exactly why I chose "public speaking" to study because learning the social cues on an intellectual level might help me cope on a personal level. That's actually pretty typical since Aspies over-intellectualize everything. That's also that part of the living-between-my-own-ears problem.
It means that I am bent toward solitude.
It means I like you. A lot. But sometimes you might think my nonverbals are communicating the opposite.
It means that God has neurologically wired me to be a whistle-blower. Yes, it's true. The great-Aspie-guru Tony Attwood has surmised that all whistle-blowers are on the spectrum. We aspire to adhere to a set of values, and when those values are missed, we are genuinely disturbed. Most "neuro-typicals" are more concerned with social ties than values, and so they will ignore value-infraction in order to "be with" others. Aspies don't. The values are more important. So we speak out. And uh . . . well, you know the rest of the story.
It means I write paragraphs like that one above to over-explain everything. I talk about myself like a textbook. That's weird! It's a coping mechanism. I might talk about you like that, too, and get you really annoyed.
It means I can be pretty clueless. It means that Grant has to say, "Honey! No!!" Or "Hey — stop flailing." or "Yo! I don't want to hear any more about that." Oh! Okay. Didn't realize that.
Steve Brown challenges us to ask God to show us ourselves — kiss that demon on the lips! When I picked up Tony Attwood's "bible" on Asperger's syndrome this summer, I was reading about that "demon." It was all written right there. In clinical language.
And writing this all out here like this is kissing that "demon."
I'm not alone at least. My grandmother was probably an Aspie. Others in the family too. To the point that watching an extended family dinner is kind of . . . well, comical. We Aspies sit there while the neuro-typicals carry the conversation. There's a lot of quiet staring and stimming. Until an interest is mentioned — religion, politics, knitting, dog breeds, or (heaven forbid you unwittingly mention this) rhetoric — and BOOM! We talk! With all the passion and intensity you'd see in the House of Commons. We argue. We gesture. We speak too loudly. We scare the typicals. And then we relax. It's like touch football for us. Aaaaaahhhhh . . . so nice. What fun.
It means also that I've already jabbered on too long, and I've bored you to tears. Aspies don't read the social cues to quit either. So I'll save my larger point for another post.
But for now, I'll say this — it all means that I need you. I do. Even though solitude is natural to me, even though I may seem to be saying "I want to be alone!" I still need you.
[youtube]http://www.youtube.com/watch?v=tojjWQvlPN8[/youtube]
But it also means that you need me. Even if you don't like me very much. I'm like the heel spur on the right heel (wing) of the Body. I'm there. I'm bone of your bone. And I'm the reminder that you have been neglecting your shoes, that you need to buy a custom orthotic, and you need to put your feet up at the end of the day. And surgery to remove me will only hurt your entire foot worse. . . . No, you have to learn to live with me because ignoring me makes your cortisol level rise to uncomfortable levels. Change your habits 'cause they are killing you — stop the power walking and take up swimming.
Aren't you glad? 😉
The eye cannot say to the hand, "I don't need you!" And the head cannot say to the feet, "I don't need you!" On the contrary, those parts of the body that seem to be weaker are indispensable, and the parts that we think are less honorable we treat with special honor. And the parts that are unpresentable are treated with special modesty, while our presentable parts need no special treatment. But God has combined the members of the body and has given greater honor to the parts that lacked it, so that there should be no division in the body, but that its parts should have equal concern for each other. If one part suffers, every part suffers with it; if one part is honored, every part rejoices with it.

I Corinthians 12: 21-26