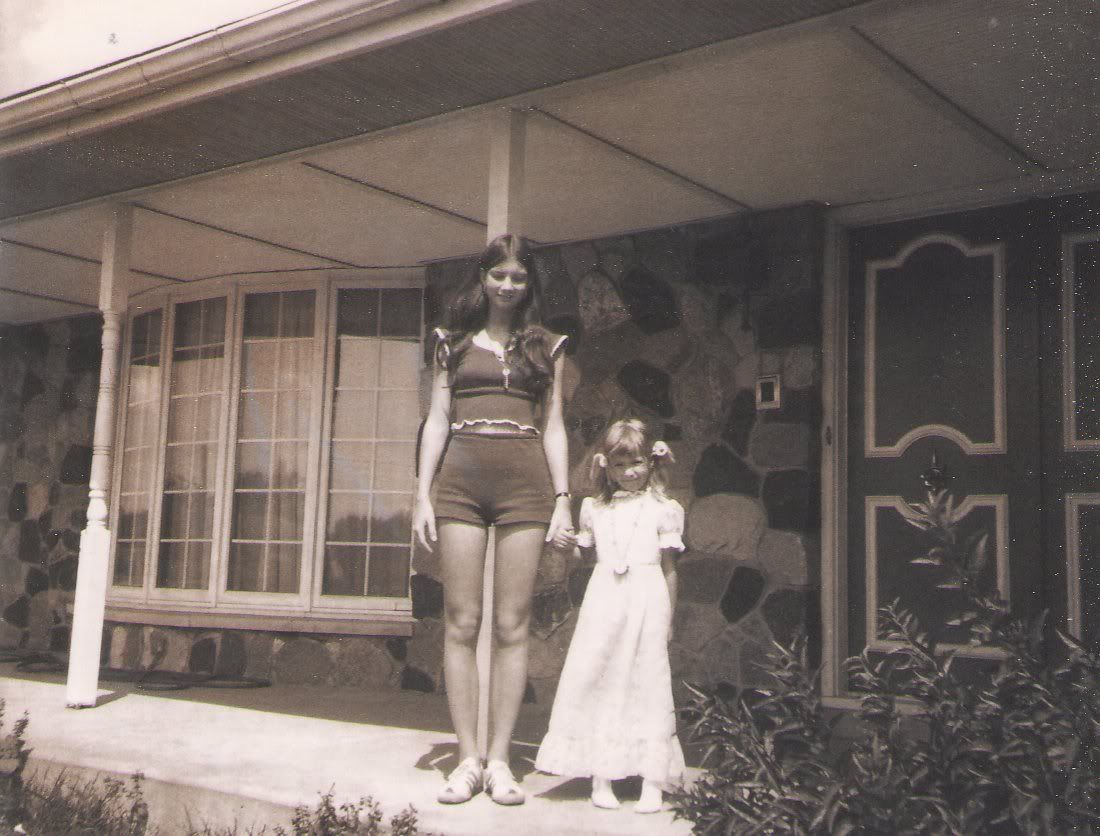 I'm the youngest child of two youngest children. And with all those aunts and uncles and cousins (that's my next oldest cousin Camille up there standing with me on my porch in 1973), I'm the only one in the extended family who wasn't born in Detroit, Michigan. But my South Bend birthplace still hovers around the Great Lakes. Still in the blustery North. Still where Falls are the loveliest in the world. Besides the roly-polies I used to torture in my tire sandbox and the earthworms I used to divide with a stick (in order to help them multiply), the autumnal hard maple trees are the only flora and fauna I remember from that home at 1601 Byron. Those beautiful trees.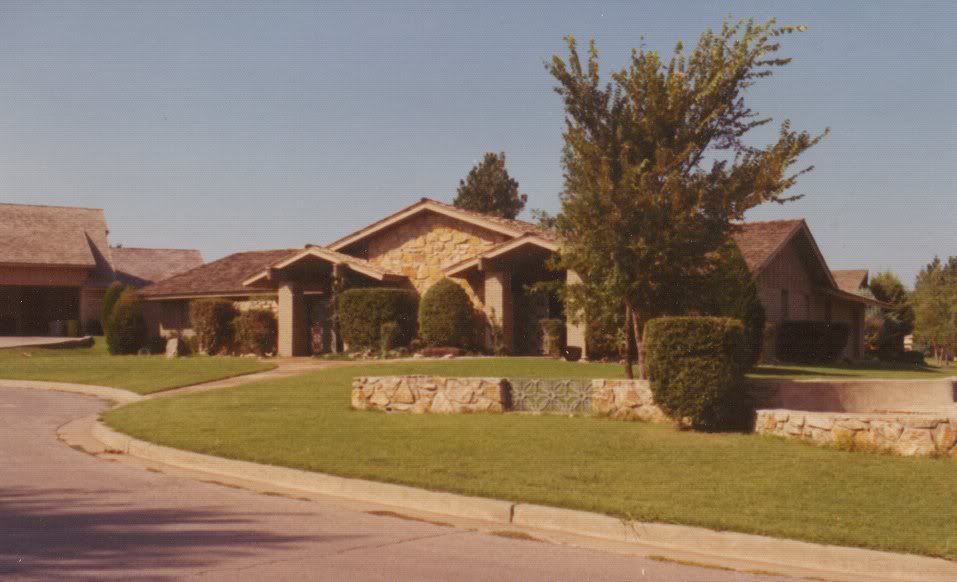 We moved to Tulsa when I was seven. A very well-appointed house. 5008 South Lakewood. That house was the neighborhood developer's rambling ranch. No basement, which floored my Dad: "Where do I store stuff?" But a sunken bathtub, four bathrooms, a courtyard, terrazzo floors, three ovens and eight burners . . . it was enormous. The southwestern rough-hewn-turned-gaudy-elegance decor threw my mom's cautious mid-century "colonial" sensibilities. Her serene French blue never fit with those hot orange sinks. Yes, I said orange sinks.
The yard — a.k.a. kid-dom — was good. It was flat. It was angular. The cat hid under the canoe. The dog escaped under the fence. And I swam with the Barbies in our small above-ground pool. Dad grew strawberries. One winter's two inches of snow and ice gave Steve and me a whole week off of school (sending these Michiganders into peals of giggles), and he pulled me on an old South Bend sled down the street. One December while watching "The Return of Noah's Ark," a tornado headed our direction driving these obedient Detroiters into the only windowless room in the house — the gold-leaf-papered "powder room."
But gee whiz — it was hot. Oh, hot. Hot, hot, hot. I hate hot. It was so hot. Mom tried to do the usual petunia thing in what was the original owner's changing-colored-lights-and-fountain display at the corner. Yes, I said fountain. Anyway, somebody (maybe us, I don't remember) had filled that fountain with potting soil, and Mom tried to do petunias. Dad tried to nurse a Camellia in the courtyard — my very own flower, I always figured. Nothing flourished. Nothing flowered. It was completely brown all year, at least in my memory. It felt brown.
Except for one visit to a local civic garden in Spring 1978 to see the azaleas and the grey-purple weeds we used to pick for our mothers after the evening church service, I remember only dried-up, hay-colored brown in Tulsa. Hot, dry, and brown.
In 1978, Dad lost his job and interest rates soared to double-digits. "Mrs. K" — Dad's dad's second wife — had recently died, and Dad had inherited property up in the Detroit suburb of Warren — including 11685 13 mile road. On that half acre lot was the house-that-Henry-built when he was 25. A tiny brick farm house. So that 1978 Fall, Dad moved ahead to Detroit. Steve went to BJU. And mom and I held down the fort in Tulsa until that house sold.
Dad would house-hunt up there by himself. But with the new college tuition and the terrific interest rates and inflation and all the joys that were 1978, it wasn't looking hopeful. He'd cry on the phone to mom — dreading taking her from that opulent nest. But they together decided that the best thing to do was move into that little farm house in Warren. From 4 bedrooms to 2, from a three-couch-minimum family room to a basement, from a slate courtyard outside our front door to a busy Taco Bell next door.
When we arrived that early November, it was other-worldly. Snow covered the front stoop. I hadn't seen snow like that in forever. I hadn't seen a stoop like that either. Cove ceilings. But it was November. We hibernated. I was the new kid at school. We looked for a church. Our mini-schnauzer got fatally attacked by two dalmatians.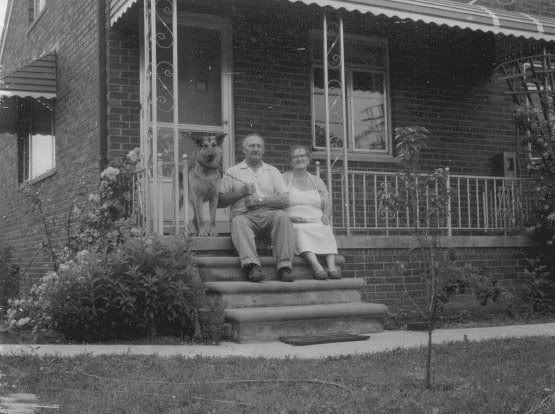 One snowy afternoon after church as we walked up that stoop, Mom announced cheerfully, "Look! Crocuses!!"
I tried to make sense of this event. What? What's that? A flower? What kind of flower grows in the snow? But we didn't plant it? . . . Oooh! Look!! at that color!
That was just the beginning.
What erupted in that over-stuffed, tiny homestead was amazing. It was Eden. Mrs. K had been a pretty good gardener herself, but in her declining years, the place had become overgrown. After the snow melted, these spontaneous blooms would erupt. Flowers I had never seen except in books. Hyacinths, daffodils, tulips — these were just the start. Just the appetizer.
Apple blossoms. Grape vines. Irises. Dill and mint. A patch of lilies of the valley so big I could roll in it. A field of cat nip that would send a pride of lions to rehab. Two snow ball bushes that had been in front of my grandparent's barn. But though the barn had been razed, the bushes remained and had grown taller than the house. My Barbies camped there for days under the canopy of the largest antique-white spheres of blossoms I had ever seen.
And the lilacs. Lilacs! See that tiny little sappling in front of my grandparents on the stoop? That May in 1979, when we came back home from Greenville with a newly-minted BJU sophomore in the family, that dark purple lilac was wide awake. Oh. That smell. The color. The surprise.
From the opulent terrazzo floors to the tiny portable dishwasher, from Tornado Alley to blizzard watch, from stone, lighted fountains to a rusty chain-link fence. Those were tough transitions for my mother. But for me? I really only remember going from hot, dry, and brown to breezy, muguet, and purple. I remember picking a pear right off that tree in the back of the lot with nothing left by the time I got to the back door except the juice on my chin. I remember Steve building a snow cat with me. I remember our new puppy playing fetch with the green apples. I remember Spring.
So every time I see the hyacinths popping up in my now Southern garden, I think of that little respite from a house payment my family enjoyed back then in that homestead-in-the-middle-of-the-city. Those pretentious columns of blossoms are like a bow on God's present of the world. It's Spring. And this is His world!