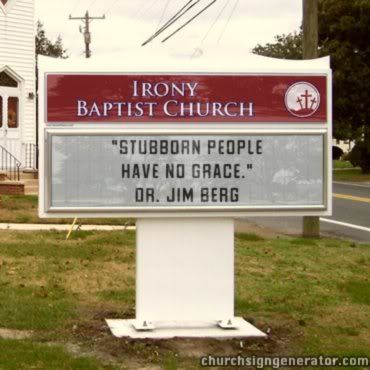 From the moment we stepped into other-than-fundamental churches, we've heard about grace. Not just grace at justification that saves us from hell fire, but grace at sanctification that keeps us close to God and growing in Him. A grace that is not earned — like a boss who passes out merit badges for my meeting quotas — but is lavishly and consistently given. It's part of the all-things-new atmosphere — life-sustaining, nurturing, and satisfying. It's that God-as-Loving-Father metaphor that dominates a grace-focused soteriology. But I've talked about all that before.
So it was in that spirit that our pastor quoted Steve Brown:
The greatest cause for our not getting better is our obsession with not getting better. There is a better way of getting better than trying harder. Sanctification becomes a reality in those believers who don't obsess over their own sanctification. Holiness hardly ever becomes a reality until we care more about Jesus than about holiness (53).
Brown channels Luther when he defines sanctification as "getting used to being forgiven" since "people who are forgiven, generally get better . . . but they never get better enough to earn God's love and grace."
There's more, of course. Lots more. And it's so different. Before I heard sermons on "How to Get God's Grace:"
Stubborn people have no grace. . . . God says, "if you wanna go down My path, I will give you all the grace you need. But if you wanna go down your path, I'll let you go down that path. I will take away all the desire to do My will. I will take away all the power to do my will. And furthermore, while you're going down that path, I'm gonna shoot at you! I will give grace only to the humble."
Which, I'm discovering, is a page taken right out of Bill Gothard's playbook (i.e. "The Umbrella of Protection," "Circle of Blessing."). Almost word-for-word. And from other moralistic legalists throughout the centuries. It's our natural bent to think we can do this on our own and that God's evil and tyrannical and vicious and limited by some arbitrary "umbrella" or "circle."
But God's not shooting at us. He's carrying us. He's not a mob boss or a prison guard. He's our Daddy.